Thoughts, November 2019 //

 Just a little insight into my brain. 
There are occasional moments when I wouldn't want to be anywhere else.

They're not frequent, especially with social media perpetuating a constant state of consumption, and of course the daily routine of life and desks and work. But when they come around, it's like stepping 3 feet outside your body, looking at a photograph of the present. They don't even need to be happy, although most of them are – moreover, they're just a reflection of knowing that being here, there or anywhere is simply where you need to be.

That being said: is it possible that, sometimes, the greatest loves of our lives aren't people? That they can be defined by places, memories, and these collective moments instead?

I feel that way about this place sometimes. I feel it in its space, my growth, and our coinciding change.

More than swimming in alpine lakes, more than shrieking at our ski tracks in Granite Canyon, more than watching the sun set 15 miles deep in the Wind River Range, I've come to appreciate the ordinary greatness – a phrase a friend used in a eulogy for his father, and an idea that I haven't stopped thinking about since. I had a crush on the Tetons, but I fell in love during all the times I had my back to them; like the countless nights we've spent on your couch, your birthday dinner when we talked about all the dark places you go when you turn one year older, or the pizza you brought me when I was feeling down. There are also moments we return to seasonally, like the grass at May Park; sweaty from lawn games, politickin' about life and times. Eating ramen on the deck of the General Store after a weekday storm. Being 23 and walking into Disco Night like we owned the place (we did). The chairs outside Creekside on a summer evening when "everyone" was going to that one party (they were). And of course, all the times I've gotten in my car to just drive, with nowhere to go other than to think and listen and know not what it means to be, but to feel. ⠀⠀⠀⠀⠀⠀⠀⠀⠀

Consumed with the desire for extraordinary greatness and the next best thing, I often forget about the ordinary. Perhaps all it takes to remember is a return to the notion that said moments are nothing more than occasional magic.

The Art of Apres, July 2019 //
Published in Best of Jackson Hole, 2019, Print: Excerpt Below
But just as the definition of "feat" in the Tetons spans a wide spectrum, so does the modern-day practice of après. For some, it means a beer after a long day, and for others, it means, well —  many beers. But whether you've had a long day, short day, summited the Grand, or just skied off the tram for the first time, isn't having fun all that really matters?
If our experiences are defined by people and moments, then the celebration that follows recreation in the mountains doesn't need to be qualified by intensity of the activity or quantified by the amount of booze consumed. It is exactly what the Nordic men and women of the past meant it to be — a good drink with friends to rehash the day, and to refuel for all the adventures (big and small) to come.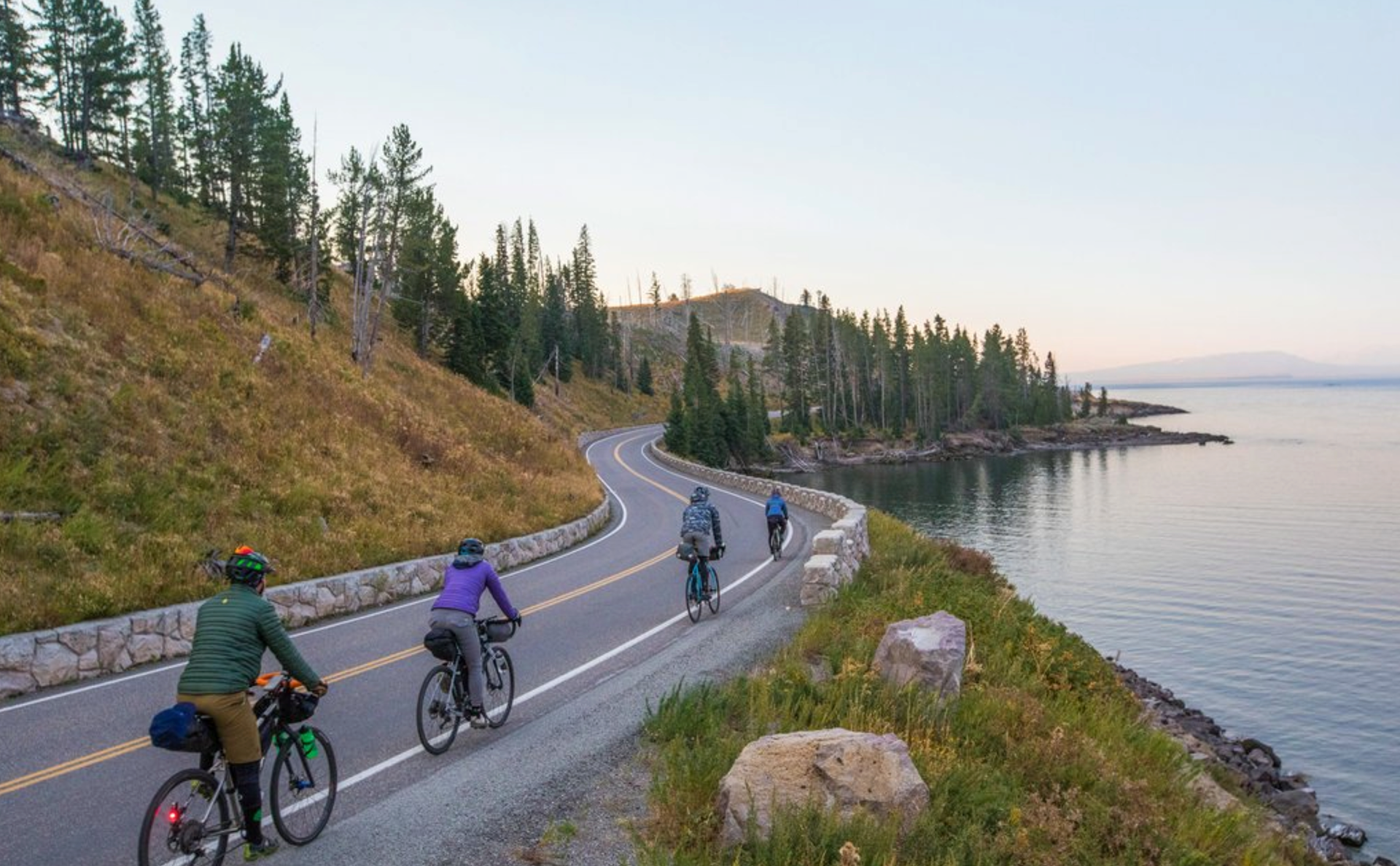 We're lucky enough to have access to public land and two amazing national parks right in our backyard. Despite the stress and warnings about biking in the park, we realized something important: proper adventures aren't always about executing perfect logistics or traveling through the most beautiful place. Sometimes, the best memories are served simply from a collection of moments, whether that means the bad jokes, the spicy tacos, the fireside whiskey pulls, or the high fives at the top of the climb.
It's these brief instances in time that only further shape and define what it means to do something really beautiful as a cohesive group. 
And in their rawest essence - isn't that what road trips are all about?
​​​​​​​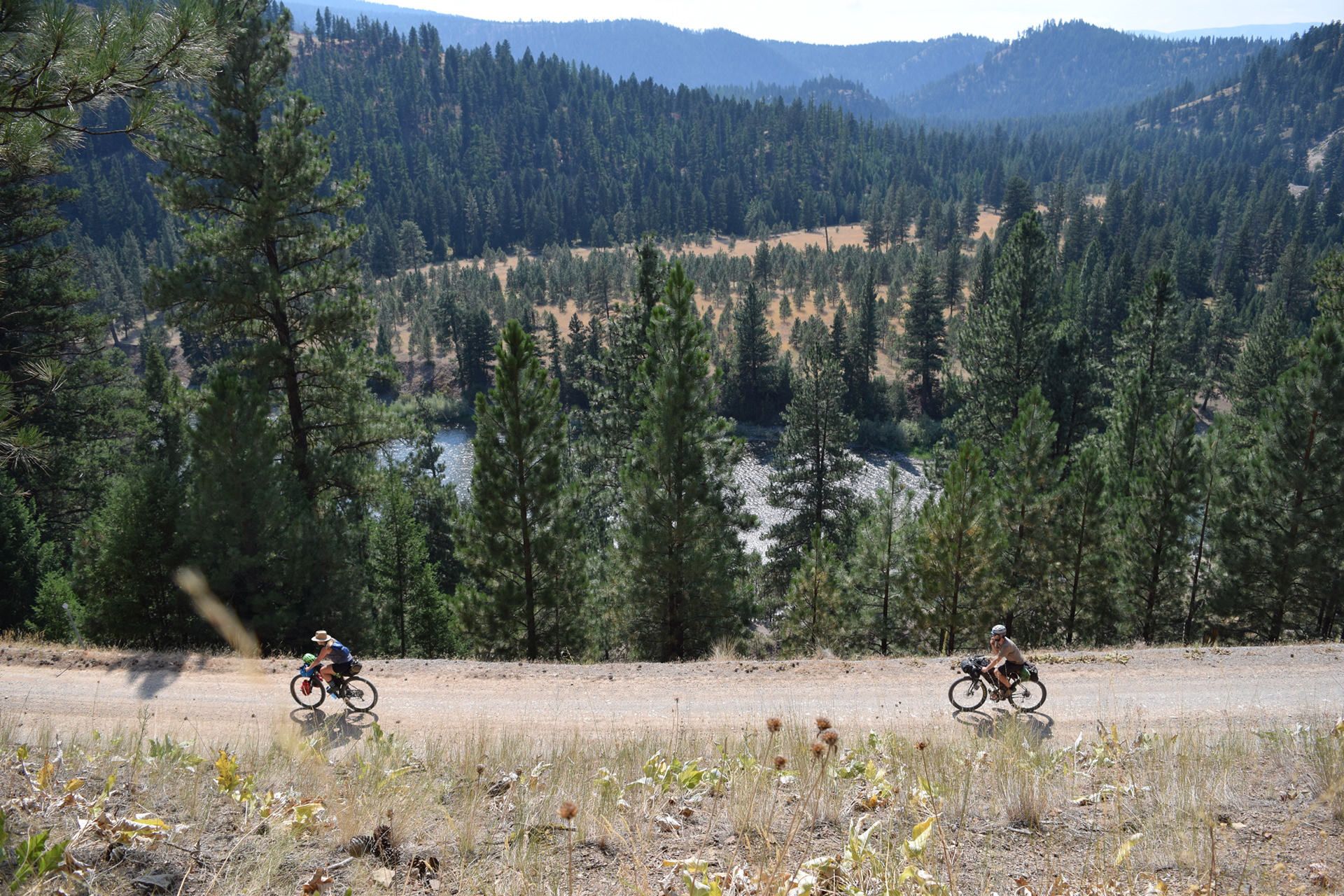 Bikepacking is "Yes, I'll take a double patty with extra cheese," after the 100 squats you have to do on leg day. It is the chance encounter with the brewery owner who says, "We're closed today, but you guys look like you deserve a beer." It is the connoisseur of convenient stores; the perpetuator of long stories about high school; the friend who introduced you to people you'd follow to the end of the earth as long as they had directions from the local Post Office worker and maybe Gaia Pro. It is; at once, the gas station corn dog that looks way better than it tastes and the paintbrush that coasts dead fields in bright yellow during the last fleeting moments of the day. It is the good stuff that burns even though it's wet and the crickets who join in your meal as you dine on a potent slop of your wildest dreams. It is the access to our public lands and the exploration of friendships that grow from doing really hard things as one.
I'm never quite sure how to describe my bike trips to friends once I return, but that's a start.

STIO EARLY FALL 2018 CATALOG INTRO //

Rediscover Your Back Yard
What is adventure? Does it mean getting on a plane and flying halfway around the world to foreign, unknown places? Is it getting in your car alone with a soundtrack of the greats and a full tank of gas? Is it conquering a peak or spending days in the wilderness?
The answer is sure, and yes, and of course. But adventure is also taking your glasses off after work, stepping out the office door and putting on your running shoes. It's veering off the singletrack to catch the changing colors of the aspen, or watching September sunsets shroud the yellow of early fall in a coat of gold. Adventure is the promise to hold on tight to the waning days of summer and reveling in the endless opportunities of Saturdays.
It's not about the highest peak or the furthest destination. Sometimes the most memorable adventures are right here in your backyard.
STIO FALL 2018 CATALOG INTRO //

Fall Frontiers
For every bucket-list viewpoint, there are thousands of other overlooks, trails and vistas that go unaccounted for. Often times, we seek out the former in an effort to get that one shot, that singular memory to prove that yes, we've been there, done that, and it was epic - an adventure of a lifetime. But sometimes, adventure at its best is found in the places that we don't just visit once or twice in our lives. It's found in our backyard trails we could run blindfolded. It's in the singletrack with the big root that you finally mastered. It's in the aspen grove that glitters when the breeze picks up in the fall.
The smell of winter is in the air and the opportunities to revisit those familiar trails are waning with each day. Sure, there might be no breathtaking waterfall at trails end and maybe it gets windy at the top, but like seasonal memories, the views change. And in the fall, when the trees shed their leaves, old vistas become new again. Change is in the air: reroute your routine trail run. Reimagine your backyard. Reinvent your everyday adventures.
APPLICATION PROMPT, JANUARY 2018: 

"What's one thing everyone knows you're obsessed with and why?"
My dad is a copywriter. As I was struggling with one of many non-fiction essays in college, he told me, "people write best about what they love and what they hate." And I think it holds true – emboldened passion, especially for those of us trying to mold and sculpt our adult lives - is the easiest thing to work toward and understand. As an English major, I was never able to write much about literary theory in the 18th century, but pizza – well that's another story.
No, pizza is not an "emboldened passion" of mine, but everyone seems to know that I'm obsessed. Not in the way that I eat it all the time, in fact, I don't indulge often, but in the way that pizza is funny, it's relatable, and frankly, it's a universal means of connection. Pizza and beer is the easiest way to keep things casual on a first date. Pizza and a movie with friends is the first step in recovering from heartbreak. A slice of pizza from a friend on your birthday - it's those small gestures that make the loudest sound. You know me, you care, you remembered. Thank you for making my twenty minute lunch break that much more enjoyable.
I've used pizza as a gauge for the good and the bad; in the way that a new crush in a small town elicits a palpable excitement similar to coming home at 2 AM to a slice of hot cheese placed on a velvet pillow. Or for the bad times, in the way that I've felt so down that the only thing keeping my head above water is a dark room, cold leftovers, and a movie where at least I'm doing a bit better than the main character.
I ate pizza with my conservative colleague as we watched the 2016 election unfold, our half eaten crusts keeping the peace through bouts of impassioned silence. I sat at a round table with conservative ranch owners and fortified young liberals and listened to the ever-present debate on public land conservation in the west; the shared pepperoni pie in the middle being our only common thread. I came home after one too many drinks, feeling sad about that thing he said that one time at that place, so I made a tortilla with red sauce and melted cheese, falling in and out of ambitious reveries he'll never understand.
So perhaps it's not pizza itself I'm obsessed with. It's not the pools of grease in the little saucers of pepperoni or the familiar warmth of melted cheese on a tired throat. It's the experience; the totality of what it means to be young and discovering how to be an adult. How we celebrate with a pie with friends after feats of physical and mental accomplishments, how we mourn the loss of a relationship with an emotional bandage of cheesy bread and bad TV, and how sometimes, a slice can turn an average day into something noteworthy, even something amazing.
Those emotionally integral moments are what I seek. They are the times that sculpt us, hone us, and define us. Those are the stories are I want to tell.